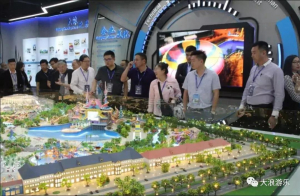 On April 1-2, 2018, the "2018 Asian Parks and Attractions Development Forum", hosted by the Asian Paradise and Attractions Association and named by Guangdong Dalang Water Park Equipment Co., Ltd., was held in Guangzhou.Industry elites from all over the country gathered together to explore the creative management of theme parks.
Speech by He Zhixiong, Chairman of Guangdong Dalang Group:According to relevant data, in 2016, the top ten theme parks in the world ranked about 438 million, which is 4.3% higher than 2015. The world's top 20 water parks have a total of 29.7 million tourists, an increase of 3.6% over 2015. The global global amusement industry is growing steadily.
With the introduction of the 2025 China Manufacturing Plan, China is moving from a manufacturing power to a manufacturing power. Recent information on the government work report of the two sessions shows that this era is a beautiful era for the development of China's tourism and amusement industry.


Dalang's enterprise spirit of "Treating people with sincerity and doing business with honesty" and the spirit of craftsmanship of "excellence and perseverance", do not forget the initial heart, win-win cooperation, and work together with domestic and foreign counterparts to work hard for the prosperity and development of international and domestic tourism and amusement. .
After the meeting, the industry elites were shocked by the decoration design of the high-end atmosphere when they visited the headquarters of Dalang Group. After listening to the detailed introduction of the staff of Dalang Group, the industry guests all praised the strength of the Guangdong Dalang Water Park Equipment Co., Ltd.,